Message from the President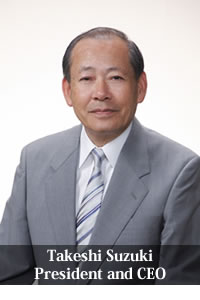 Since our founding in 1935 by Shinsuke Suzuki, and our first steel products for record player needles, Suzushin has supplied various industries with secondary steel products, and hardened steel products in particular, such as piano wire, stainless wire, odd-shaped wire, standard galvanized steel wire, twisted wire, varieties of rope, polished steel plates, industrial fiber products, resin products, and a variety of pressure gauges and sensors.
At present, we are also actively engaged in supplying material for optical submarine cables for global communication. Looking back on our 80 years of business, I see how Suzushin has progressed forward while realizing the aspirations of its customers.
Moving into the future, Suzushin would like to remain conscious of sustaining the environment for the next generation, keeping the importance of CSR clear in our minds, and further contributing to the future of the earth's population as a trusted and helpful trading company. We thank you for your support and look forward to many more years of business together.
Corporate Philosophy